Profile: Frankie Seminario
A Shared Passion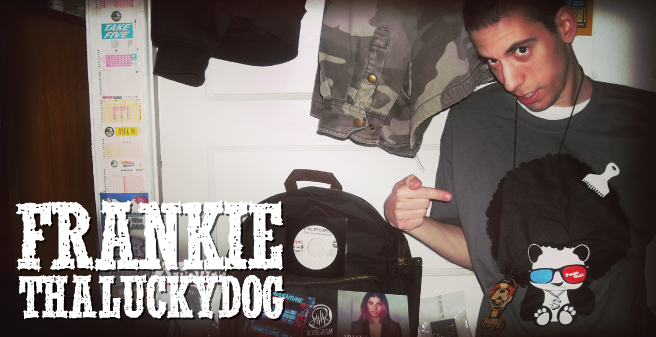 It's not just a corporate slogan:
Music IS our passion
, a passion we like to think we share with all our customers, none more so than marathon Dance Radio reviewer Frankie Seminario, aka DJ Frankiethaluckydog.
Diagnosed with autism at age 12, Frankie found peace and passion in the rhythmic music he heard growing up each night on Long Island's Party 105.3. Inspired by 105's playlists, he began creating his own countdowns, based on what he would hear on P2P sites such as LimeWire, and posting them on a website of his own. His passion would later drive him, at just 17 years old, to review an album that rocked his young world, Cascada's "Everytime We Touch".
Frankie began reviewing in earnest upon receiving Dance Radio May 2006, his first Promo Only CD. He has since reviewed virtually every Dance Radio release and shared those reviews on a global platform where he has garnered the attention and admiration of artists such as Dee-1, Diana Falzone, Eddie Amador, Edun, Fila Phil, Jill Tirrell (Krista), Lokee, Lil' Cali, Kevin Gates, Marcie, Rod Carrillo, and VL Mike.
Today, with a Master's Degree in video production, a four-year stint hosting his own show on Marywood University's VMFM-91.7, 1,450 CD reviews, an article in Mass Appeal Records' magazine, and a second album about to be released to his credit, Frankie still finds the time to submit his Dance Radio reviews, for which we are most appreciative.
Thanks Frankie!
Keep up with Frankie (if you can) via...
Twitter: @LuckyFrankie621
YouTube: youtube.com/FrankieThaLuckyDog
Main Blog + Reviews: frankiethaluckydog.blogspot.com
Blog | Playlists + Countdowns: playlistsandcountdowns.blogspot.com
Original article link:
http://newsletter.promoonly.com/2015/USA/April/ENews.html?&&&&&utm_source=emailcampaign129&utm_medium=phpList&utm_content=HTMLemail&utm_campaign=Promo+Only+April+2015+eNewsletter